Location
We are located in the historical village of Yungaburra on the Atherton Tablelands (also known as the Cairns Highlands) only 1 hour from Cairns. Yungaburra is a beautiful little town offering plenty of boutique gift shops, great restaurants and lots of natural beauty to explore.
Looking for a bit of action?
Lake Tinaroo offers many recreational and sporting activities from sailing, speed boating, water skiing and of course fishing. Originally created by damming the Barron River, Lake Tinaroo was the first large dam in Queensland built primarily for irrigation.
Make sure to check out the Yungaburra markets that are on every fourth Saturday of each month.
Up to 250 local growers, producers and artisans gather to display and sell their produce and handiwork.
Rising more than 700m above sea level, the Atherton Tablelands is famous for beautiful Rainforest, Waterfalls, Crater Lakes, Mountain bike parks and more..
The climate is about 5 degrees cooler then Cairns which makes for less humidity.
Its spectacular surroundings, that has been influenced and shaped by volcanoes make it a popular destination for people of all ages. 
MEET THE LOCALS – The best place to spot a platypus in Far North Queensland is along the "Peterson's Creek Track" which is 2.3 km's starting from the Platypus Viewing Platform in town. Only a 5 minute walk from the On The Wallaby Eco Lodge.
WILDLIFE –  The Atherton Tablelands is one of Australia's key birding destinations and there is a range of other unique animals like Platypus and Tree Kangaroos.
From butterflies to the Herbert River Possum, join us in a night canoe and we will show you by night what this region has to offer.
DO GO CHASING WATERFALLS – In ancient rainforest and crystal clear waters..
We are the perfect place to base yourself when it comes to exploring the waterfalls circuit.
Milla Milla Falls, so nice they named it twice. Famous for it's "herbal essences" commercial, don't forget to do the hair flick.
When taking the hike to Windin Falls, it's good to know that we are only 20 minutes away from this spectacular location, in Wooroonooran National Park. While most waterfalls are explored from the bottom, what makes Windin Falls so special is the view over the surrounding valley from above.
EXPLORE SWIM RELAX – Natural wonders such as the Curtain Fig Tree, Mt Hypipamee Crater and the twin volcanic crater lakes of Barrine and Eacham. Take a hike around one of the crater lakes and jump in the water to feel reborn afterwards.
The Curtain Fig Tree is only 2km's from the lodge and also a great place to spot animals at night.
CREATE MEMORIES – On the Atherton Tablelands..
Get back to nature and enjoy it's wildlife, canoeing, hiking or mountain biking at the Atherton Tablelands Mountain bike Park.
This purpose-built, single-track mountain bike trails are located in the Herberton Range State Forest.
And suits every level, with a distance of 54.4 km's and a total network of 17 trails the rainforest is your oyster.
You can hire a canoe or mountain bike from us and we can guide you in the right direction.
If you want to check out all these great places and you don't have a car no worries! Join one of our TOURS from Cairns.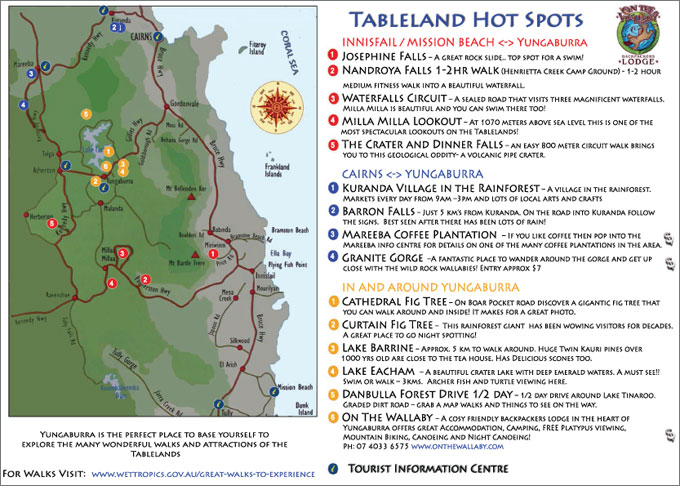 VIEW or PRINT larger version of the On the Wallaby Atherton Tableland's Hot Spots map.